What to Check Before Buying Gold Jewelry: It is obvious that Gold is regarded as one of the most precious metals available on this Earth. Apart from ladies, male personalities are getting attracted towards gold ornaments these days. Gold is also considered a great hedge against investment. It is a wonderful way of investing your hard-earned money. Indians regard gold as a sign of purity, opulence and prosperity. But, while buying gold jewelry from the market, many people get cheated. Few people are aware of the technique of judging gold ornament.
In order to safeguard your hard earn money from dishonest traders, it is important to keep few points in your mind while purchasing gold ornaments.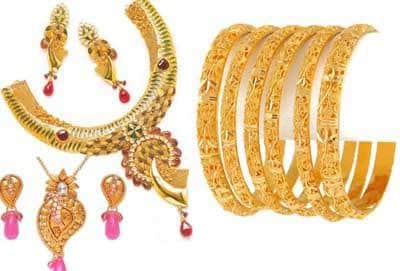 5 things to check before buying gold jewelry
Purity
It is really important to check the purity of a gold ornament. Much gold ornament has specific marking placed at its inner part to indicate its Carat age. Since pure gold is very soft to be used as jewelry, some alloy is mixed with pure gold to make it ornamental gold. Alloy used in ornamental gold are silver, zinc, copper and nickel. These metals portray strength and durability of the gold ornament. Generally, gold is available in different variations such as 18K, 22K and 24K.
Color
Color of gold metal is another important way to check whether the particular ornament is pure or not. Categorization of gold on the basis of color are yellow gold, rose gold and white gold. Many people prefer two tone styles in gold jewelry where, white gold and yellow gold is mixed together to form a pretty gold jewelry. You can now find a variety of such jewelries in many branded jewelry stores. You can always trust the brand name to get authentic jewelry.
SEE ALSO,
How Retirement Planning is Different From Financial Planning
How to Take Control of Your Finances
See How Life Insurance Can Help With Liquidity
Magnetic check
Since, the jewelers can create high and low quality of jewelries in same design and style; it becomes really difficult for the common people to understand the quality by just viewing. You can now run a jewelers magnet over the jewelry. If the jewelry is made up of pure gold, it will not stick to the magnet. Sometimes an artificial stamp is placed at the back side of the gold jewelry which looks exactly like a real stamp. Thus, it is really important to carry such magnet when you are going to shop gold from the market. You can also refer this link to know how to test gold purity.
Identify right stamp
According to the law in many countries, no jewelers are allowed to trade if they sell their jewelry without carat stamp. It is important to have a look at the clear stamp that indicates the Caratage of the jewelry item. This authenticity is controlled by hallmarking system. Branded jewelers have their own stamp on the jewelry item. People would be assured about the quality as soon as they find the stamp of that particular jeweler. You can also look at the BIS mark on the jewelry before buying it from the market.
Price
You can now get updates about gold rates everyday from internet. The share trading website will provide actual rate of gold every day. When you are buying gold, you must check whether the jeweler is selling the product in the same rate. If they are selling it in low rate, you must understand that quality of good is not up to the mark. You should even not tolerate higher price of gold than market rate.
Above mentioned points will help each individual to purchase gold ornament without getting cheated. You must try to understand gold variation, price, purity and weight before purchasing it. You can even speak to experts before deciding about a major purchase of gold jewelry.
From our research so far, we have been able to come out with the above article. I hope at this point you have been able to gather the ideas on What to Check Before Buying Gold Jewelry. This article is very useful, share it with friends. Enjoy!